We are celebrating for sure this month here at Habitué and at Side by Side Ministries!  We have dual reasons and they are both very exciting for us!  First of all, we have finished our first full month of baking up a lot of wedding cakes and all occasion cakes and we are loving it!  It has been a busy time of learning and working together and it is so fun to walk in our kitchen and see the room so full and busy!  On any given day there are cakes in the ovens and on the cooling racks and on the preparation tables!  I would call it a full house and we are being very productive!
We just finished a big week and we had four good-sized weddings and many other special orders for graduations and birthdays and such.  As the owner, I am so proud of our staff and how they have stepped up and taken on this big challenge with courage and cooperation.  Weddings can be pretty stressful and yet I have been watching them face the challenges with great confidence in their abilities, and also the systems that we have put in place.  Our leadership team has been putting those foundational things in place that are setting us up for success. Just like anything else in life, you have to have a plan.  We just continue to adjust when we see a gap and learn something new.
That has been my learning style since I opened Habitué over 5 years ago.  We start with learning by asking good questions and researching – then we do what we think we know and put a plan in place that will help us to be organized and get systematized.  Then we regroup and adjust when it doesn't work.  We have to know and document every step that it takes from beginning to end to do each task for our work.  When we have those standard operating procedures down and in form, then we try them out and use them for a day or two and keep notes about what doesn't work.  There are always little and big things along the way.  You have to think of every little thing that you do and that could happen.
Next, we would need to make checklists and worksheets that keep us all together and working in sync.  We don't want anything to fall through the cracks and we have learned that when you think you will remember to do something – it doesn't happen.  There is so much going on and sticky notes or trying to remember things always leads to a big mistake.
So with what I have learned over the years, now we are doing the same things with Betty's Cakes to Remember.  It is coming together and our kitchen is busy!  We believe that our ideas for this merger were a dream and an inspiration from God and it seems to be such a blessing!  Our customers are happy and our business model is improving and showing it on the bottom line!
Our 2nd reason for celebration is that we just had graduation on Friday, May 29th,  for our very first Ambassador Training Program.  We had four people fulfill their training and receive their certification as Ambassadors for Christ.  This was an in-depth training that took 12 months and almost 60 credit hours to complete.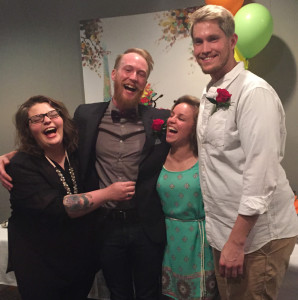 Congratulations to Darren Clausen, Ellen Andersen, Hali Benson, and Tyler Pieper!  They have grown in every area of their lives and now they are all moving on to the next stage of growth that God has for them.  We are so proud and so happy for each one of them.  Darren will no longer be working at Habitué because he is going to be working in his own business and ministry, called His Glory Productions.  This will include him leading worship next door at The Living Center and also mentoring others in music and worship along with Jill Miller. We will share more about that in the next issue.
Ellen will be working in our Young Leaders Internship as our Back of the House Assistant Manager at Habitué.  She will be learning everything cakes and she will be leading the kitchen.  She is also involved in the ministry at Side by Side.  Ellen is going to be trained to be involved in our Healing Waters Prayer Ministry.
Hali will be in the same internship as the Front of the House Assistant Manager.  Hali loves our guests and knows the business out front, so she is a real asset to the coffeehouse and to the ministry.  Both of the girls have a heart for others and spend time ministering as God opens the doors for them.  They both are mentoring those that they lead that are younger than they are.  (Maybe even some of us older ones!)
Tyler Pieper is also in our internship and will be working early mornings opening the store and also he is working in the ministry at Side by Side assisting with our brides and anything from selling cakes to delivering cakes.  Tyler also is a full time student at Le Mars Beauty College.  He will be done in the fall and then will be with us at Side by Side and also will be using his skills and abilities making people feel more beautiful!  That could include working on our bride's hair and such!  We are still dreaming with Tyler about this!
It has been an incredible year watching them grow up and diligently work side by side!  I know many of you have watched also and you love these four beautiful people!  Please let them know what it has meant to you!
Let's remember to celebrate!  God is so good and we have all come under His wings for refuge!  He is the one we are truly celebrating!