One of my hands-down favorite places in the Siouxland area  is Falls Park. I could spend all day there walking and climbing among the rocks and crevices. We were able to visit there again recently. In times past when we have visited there wasn't always a lot of water going over the falls.  This time was different.  The falls were active and bustling. We were blessed to see the rapids gush. The water was moving briskly over the rocks. It was magnificent! I've always been in awe of God's handiwork in that magnificent area.
In my time on the rocks I noticed many other smaller pools of water that sat almost still. There was rapidly moving water close to them, but these smaller pools sat almost still. They were barely moving. What was beautiful to me is that the still pools sat in peace in close proximity to the waterfalls.
In our daily lives, there is always some type of bustling rapids. For me it's often the busyness that's associated with an upcoming deadline or something else that's important at work. There's also the busy schedule of home. Doctors appointments, school events and taking the kids here-there-and-everywhere creates fast-flowing rapids in our lives!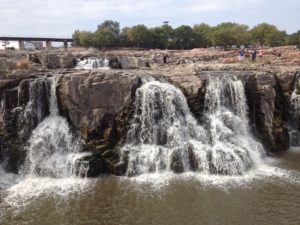 Just like evidenced in my observation at Falls Park, we need to make sure that there are pools of solitude close to the rapids of our daily lives. I've written about this before. It's so vital that we make time every morning to start our day with a holy perspective. But (this is so important) it shouldn't to be a one-and-done thing that is checked off of your daily checklist. Author Henri Nouwen was quoted as saying, "Without solitude it is virtually impossible to live a spiritual life. We do not take the spiritual life seriously if we do not set aside some time to be with God and listen to Him." It's important for us to be still. We need to listen. Journaling is a valuable tool to communicate with the Spirit. Be available to hear.
In those times when the rapids are raging, that's when it's of utmost importance that we seek out the face of our Savior and ask for guidance and wisdom. It's imperative to take a time-out for focus on what's important.
David understood the importance of making time for his Savior. Psalm 55:16-18 says, "But I will call on God, and the Lord will rescue me. Morning, noon, and night I cry out in my distress, and the Lord hears my voice. He ransoms me and keeps me safe from the battle waged against me, though many still oppose me." In the midst of being pursued; while ruling from his throne; in those chaotic times when the rivers waters were swirling around him, he sought the Lord and he was kept safe.
This month I'm challenging you to make sure to find the time throughout your rapid-filled days to seek and to listen. It's not just a checklist item for the morning. It's a relationship that you invest in throughout your days. Turn the TV off and go outside. Spend time with Him on your lunch break. Find a solitude place in one of our beautiful city parks.
Father, we were designed to commune with you. There are days when the rapids we're traversing are dangerous. I ask Father that in those times, we would be nudged by your ever-present Holy Spirit to seek Your face. In those times, it's my prayer that we not only seek You for guidance, but we also praise You for Your promises of faithfulness and unconditional love for us. Amen.