The Lord is my light and my salvation— whom shall I fear?

The Lord is the stronghold of my life— of whom shall I be afraid?

(Psalm 27:1)
When all else fails, we end up in fear. When everything we've tried in life doesn't work out for us, we start to panic. The world offers short-lived solutions to mask or cover up this fear, but inevitably we end up right back in it with questions like, How are things ever going to get better? Will ISIS ever stop? Will my children be safe today? Will we elect the right president? The questions we ask ourselves are endless because of our lack of faith and trust in God. Fear seems even more prevalent today because our nation seems to be falling farther and father away from God.
Fear is nothing new, however. Think about the story of God parting the Red Sea. The Israelites were finally released from the bondage of slavery and were on their way to freedom. Oh, the excitement they must have felt as they started their journey in freedom. That excitement quickly turned to fear, however, when Pharaoh changed his mind and started chasing them down with his mighty army. The Israelites run but are soon at what seems to be the end. The Red Sea is in front of them, and Pharaoh's massive army is behind them. There seems to be no place to go, it would appear that they are trapped.
God, however, sees their situation very differently. He has already planned a way out of this seemingly hopeless situation. Not only does He part the Red Sea so the Israelites can walk to safety on dry land, He destroys their enemies when the mighty walls of water come crashing down on the soldiers who are pursuing them. Not one of the soldiers survives.
Moses and the Israelites immediately start praising God, singing:
"The Lord is my strength and my defense; he has become my salvation.

He is my God, and I will praise him, my father's God, and I will exalt him.

(Exodus 15:2)
Moses' wife Miriam joins in the celebration and sings:
"Sing to the Lord, for he is highly exalted.

Both horse and driver he has hurled into the sea."

(Exodus 15:21)
When we get to those dead ends in our lives, when situations seem impossible and hopeless, when we get to our Red Sea, God can and will show us a way through whatever lies before us if we go to Him with a believing Spirit. He will shine His light in the midst of our darkness. When we trust that He is our Light and our Salvation, He will make a way when there seems to be none.
We invite you to read the story below   about how God truly shined His Light in the midst of the dead end of one of our sisters in Christ, Gracia.
---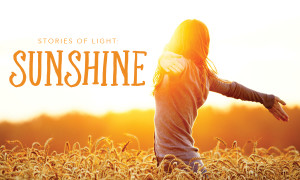 "Count on it: The day is coming, raging like a forest fire. All the arrogant people who do evil things will be burned up like stove wood, burned to a crisp, nothing left but scorched earth and ash— a black day. But for you, sunrise! The Sun of Righteousness will dawn on those who honor my name, healing radiating from its wings. You will be bursting with energy, like colts frisky and frolicking. And you'll tromp on the wicked. They'll be nothing but ashes under your feet on that Day." God-of-the-Angel-Armies says so."

Malachi 4:1-3 (MSG)
Hi there! My name is Gracia. I work here at Side By Side Ministries & Habitué. As of this month (February), I have been a part of this family for 6 whole months! Time has flown since I began my journey in the Ambassador Program. Throughout the next year, we are going to be focusing on different 'Stories of Light'.
I love stories. I love hearing them, I love telling them. I love stories because we all have them; stories about things we loved to do while growing up, stories about things that make us laugh. We also all have a story; a story of our lives. These stories all look quite different. Though there may be similarities here and there, there is an intricacy and intimacy about each of our stories; they all look different. My story of Light, in particular, is about Sunshine.
I have lived a life full of pain, sorrow, and sickness; a life of storms, clouds, and hurricanes. I have also lived a life full of grace, restoration, and faithfulness; a life of rainbows and sunshine.
As a young girl, I was diagnosed with multiple chronic illnesses. As time would go on, these ailments would prevent me from going to school, ultimately forcing me to drop out of high school at age 16.
My life was turned upside down, in a sense. I had suddenly become bedridden and my health was failing- fast; right before my eyes. I had come to a point in my life where I really thought I had lost it all; my health, my friends. I was even losing my hair at this point. I was in a hurricane and I felt like I was drowning. I was left laying there with nowhere else to go.
It was in that same moment that I gained everything. With 'healing in His wings', He wrapped His arms around me and said "My Daughter, my Beloved; You are not fighting this alone. The darkness cannot touch you. I am here."
In the middle of my storm, in my darkness, there was a Light. There was Sunshine. He is my Sunshine.
What kind of storms are you facing right now? Is it dark? Do the clouds seem unending? I pray that you would see the Sunshine. Find peace in knowing that though the clouds may seem heavy and the storms unending, our Light, Our Sunshine, is on His way.
I have said these things to you, that in me you may have peace. In the world you will have tribulation. But take heart; I have overcome the world.

John 16:33 (ESV)