BY CHERYL WELLS
As we have been working together this year to bring the ministry and business piece together, we have really again seen our need for the power of the Spirit in our lives.  We have really sensed our need to glorify God through our character and show Him in ways that are visible as we work side by side, no matter what the pressure is or what the day brings.  Over the last 15 years since we opened the ministry center, we have gone through intense times where we have talked and prayed much about unity and our need for it.  We can work and work for it and talk about it, and we have prayed and warred for unity.  We have held on to Psalm 133 and memorized it, claiming it for each of us and certainly for the whole team.  
How good and how pleasant it is when brothers live together in unity! It is like precious oil poured on the head, running down the beard, running down on Aaron's beard, down upon the collar of his robes.  It is as if the dew of  Hermon were falling on Mount Zion.  For there the Lord bestows His blessing, even life forevermore.  
The Lord has taught me many things through the years about this passage through different situations and ministries that we have partnered with.  I watched Him do amazing things through my journey with Youth For Christ/USA and even the international part of their ministry, as I served on the national board.  When our board and those on the leadership team came into beautiful unity under the new President of the ministry, we watched God pour out His blessing on the board and also the National Service Center and out into the ministry across the USA.  I chaired the Spiritual Life Committee for that board and the Spirit of God led us as we sought unity at all costs.  God taught us how to build a bridge with people that would have otherwise been a huge struggle to get on the same page.  So instead of drawing a line in the sand or pushing back, we would seek God for a way to love and serve and build a bridge that would bring us to the same side.  We would walk over those bridges together and when we met half-way, then we would end up on one side or the other together.  
To do that we need the living Jesus in us and the power of the Spirit.  Then we can be a testimony to the Spirit, who testifies of Jesus, and Jesus testifies of the Father.  So as we think about that, there is unity in the Triune God! Everything about God points to unity and coherence.  The word cohere means when things of a same kind attach to each other and form a solid whole.  
Just as each of us has one body with many members, and these members do not all have the same function, so in Christ we, though many, form one body, and each member belongs to all the others.  We have different gifts,  according to the grace given to each of us.  (Romans 12: 4-6)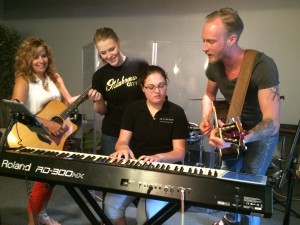 He fits us together into one body made up of differing parts, and yet the converging of the differing pieces give the whole its beauty.  Haven't you noticed the beauty of how God displays Himself in someone's life around you?? We all have different gifts and abilities that seem to come so naturally to us, and yet we know and admit that it is God given.  It is all for HIs glory!  And yet we know, that apart from those others around us that help us to do what we do, we wouldn't be whole.  Just like Jesus said in John 14 – "The words I say to you I do not speak on my own authority.  Rather, it is the Father, living in me, who is doing His work."  In John 16: 14-15, He also says this – "He will glorify me because it is from me that he will receive what He will make known to you.  All that belongs to the Father is mine.  That is why I said the Spirit will receive from me what he will make known to you."  
Do you see how much there was interdependence in the Triune God?  The Spirit receives from Jesus, Jesus receives from God.  They work in cooperation and unity.  Colossians 2:9-10 says, "For in Christ all the fullness of the Deity lives in bodily form, and IN CHRIST you have been brought to fullness."  From the Father, through the Son, and by the Spirit.  We have what we need to live in that fullness and unity in the body of Christ. Jesus blood is what brings us the forgiveness we need from our sins, and the Spirit is the oil that reminds us of who Christ is IN us – He cleanses us from the un-rightness that causes us to sin by the power of the resurrection.  It's the dunamis power of the Spirit of Christ and He lives in us.  But we must surrender to His power working in us and through us, so that we can "be filled with the Spirit" (Ephesians 5:18).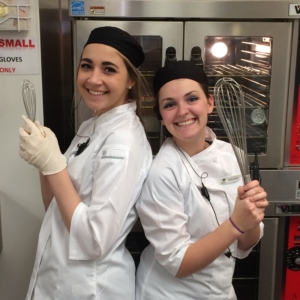 We have just come through the celebration and remembrance of the Day of Pentecost.  Acts 2:1 says, "When the day of Pentecost came, they were all together in one place." The word together speaks loudly to us.  They were in unity, in one place and waiting on God for His promise to come to them. The promise of the outpouring of the Holy Spirit and this time together for them was a consecration ceremony.  One of the greatest miracles of the coming of the Spirit for them was the miracle of unity.  
It is a coherence that God wants for us to have and it is not something we are able to produce on our own.  It goes far beyond any kind of cooperation or agreement that we as human beings can attain to.  We have been talking all year about agreement and cooperation and we need that, but we want to know and remember that it is a work of the Spirit of God.  In order for us to all fit together and work to the best of our ability, we need the filling of the Spirit in us – be constantly being filling with the Spirit…that's what Ephesians 5:18 is saying.  And in that, we are the recipients.  Jesus is the one doing it and what He is filling us with, is His very own Spirit.   So for true unity, it has to be a work of the Spirit in us and Jesus is clothing us individually and corporately.  We will reflect the unity of the Father, and the Son, and the Spirit.  It is beautiful!  
Let's come together in one place and wait for the Spirit to fall on us…Jesus prayed for us in John 17 when He said this – that they may be one as we are one.  (verse 11)  If Jesus, by His Spirit, is in me, and the same Jesus is in you, then, in Him, you and I are one.  That's beautiful to think about!