BY CHERYL WELLS
Life is just so fast paced and it seems like things are progressing towards "the day" that the Bible talks about continually, but yet we know that it will be in God's perfect timing. Jill Miller and Darren Clausen lead our Intercessory Ministry and they wrote a song and a prayer directive for December of last year called "King of Kings and Lord of Lords". Throughout 2015 we praised God in our times of worship using some of His "I AM" names. God brought me this in 2014 as I was praying and preparing for writing in 2015 for our ministry prayer directives. He brought me the theme for the year overall first, and then the first three names for January to March.  Our overall theme for the year was to praise Him for He is Alpha and Omega – The Beginning and the End. I knew God was speaking to me that He was beginning our year and He would end it and we could trust Him, no matter what.  He is with us from the beginning to the end, and that was powerful to me and so comforting. I sensed that He meant it very personal to me and yet He wanted me to share that with others everywhere. We have been doing that all year through the ministry of Side by Side.
As I said, I started last year with the first three names of God and I was writing the prayer directives. I knew when He brought me the first three that He also showed me that those would be the only ones that I would know and write about. Jill and Darren have been learning and writing songs in their journey with our Intercessory Ministry called Harp & Bowl, and it has been incredible to watch them co-write songs for each month according to the name of God that we are focusing on. I would write the prayer directive and then give it to them and they would write the song that went with it. But when I got to the month of February and the Spirit of God brought me the scriptures and I wrote for March, I knew I was done writing for this and that He was going to give the next month to someone else. God had truly confirmed what I thought He had shown me and I knew it was time for Jill and Darren to step up.  Jill had been mentoring Darren in worship for about a year and yet they had entered this incredible journey that led them into the very throne room of God through intercession and worship – and some call it Harp & Bowl. It quite simply means singing to Jesus and praying to Jesus as the Spirit leads and many times is simultaneous.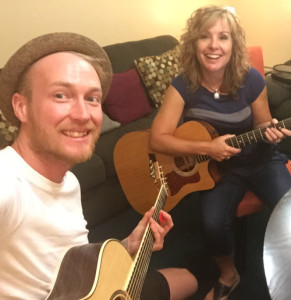 Instead of just writing the song about the name of God that I gave them, along with the scriptures and insight I shared, they took on the whole thing and once again I was able to release something that God had given me to do for a season. I love to do this and it has been my journey here at Side by Side for the last 15 years. It really is the hallmark of our ministry and it is biblical. We are to be reproducing and there should be fruit, fruit that will last. We are here to point people to Christ and then to raise up those ones that God shows us to come alongside of. We are raising up young leaders here at Side by Side Ministries and it is a joy!  Jill Miller is a part of that team and she is doing a wonderful job of helping us to raise up young worshippers. She has a team right now of 3 very bright and passionate worship leaders that she is working with on a weekly basis. Our next newsletter will highlight Jill and you can hear her heart about her journey here.
Darren Clausen is in fact our very first young Ambassador in Training that has graduated from our school and now he has also passed a milestone in that he has left and started his own ministry and business that we are highlighting in this newsletter as well.  Darren has also come back and he serves in our ministry as our Worship Leader and also is stepping into leading our Intercessory Ministry in January. I have been reading 1 Timothy, which is in our theme for worship this month, and  Paul says to his "true son in the faith" (1 Timothy 1:2) – "But you, man of God, flee from all this, and pursue righteousness, godliness, faith, love, endurance, and gentleness. Fight the good fight of the faith. Take hold of the  eternal life…" and we know that he had eternal life from the moment that he was saved, but Paul is urging him to claim its benefits to a greater degree or fullness. I would say that to me that speaks of the fullness that we have by the Spirit as we seek the fullness of the Spirit's power. In verse 19 he tells Timothy to command others in several ways.
Command those who are rich in this present world not to be arrogant nor to put their hope in wealth, which is so uncertain, but to put their hope in God, who richly provides us with everything for our enjoyment. Command them to do good, to be rich in good deeds, and to be generous and willing to share. In this way they will lay up treasure for themselves as a firm foundation for the coming age, so that they may take hold of the life that is truly life.
Timothy, guard what has been entrusted to your care. Turn away from godless chatter and the opposing ideas of what is falsely called knowledge, which some have professed and in so doing have wandered from the faith. Grace be with you. (1 Timothy 6:17-21)
This is for us all and it is good to heed the Word.  I pray that we would seek God for the next step and the power to do it and live the LIFE that He has for us to live. Good job Darren and also those that were with you on the journey that are coming alongside of you!  You know who you are and we are proud of each of our partners in ministry!  Whether you are here in our Ministry Center or all over the world! We love you all and we are walking beside you and praying with and for you.  Remember that at just the right time Christ will be revealed from heaven by the blessed, and only Almighty God, the King of Kings and Lord of all Lords.  (1 Timothy 6:15)